Measuring in centimetres: With the dog standing still, measure the length of your dog's back from the withers (shoulder blades) to the base of the tail (do not include any part of the neck or the tail). Make sure to hold the tape measure parallel to the ground – do not follow the curves of the dog's back.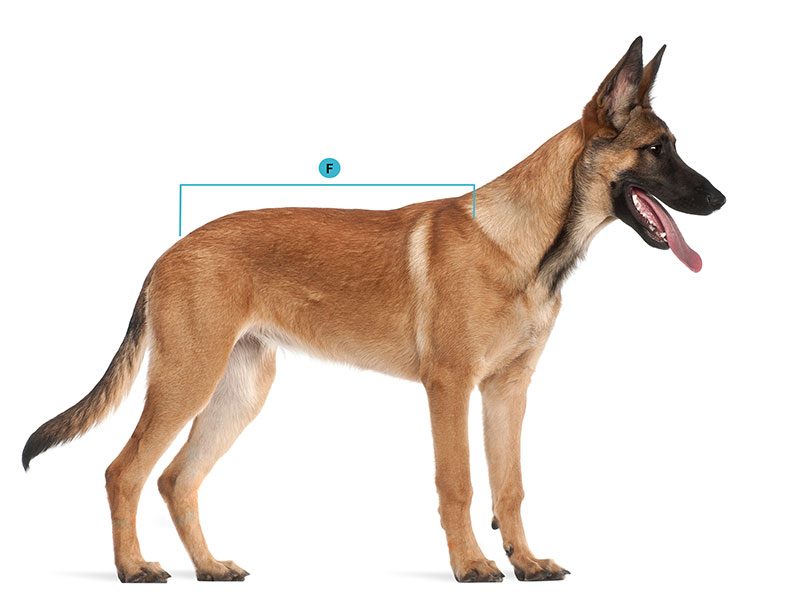 Sizes available in cm: Back lengths 21cm, 23cm, 25cm, 27cm, 29cm, 31cm, 34cm, 37cm, 40cm, 43cm, 46cm, 49cm, 52cm, 55cm, 59cm

See the Back on Track Breed Size Chart, although this is a rough guide as we know from experience that some breeds vary widely in size (Border Collies for example) we have some collies needing a 55cm.
Instructions for use: Before beginning use of the product, please carefully read the directions for use which can be found on our packaging. BoT products may need to be introduced slowly, as the dog's body needs the opportunity to familiarize itself with the Welltex fabric's potential warming effects.
Back on Track products aim to increase blood circulation so the product might cause a change in your dog's capability, enthusiasm, or mobility. So please be aware and potentially introduce gradually. Through routine use of their coats they hope you will see the greatest benefit. The benefits of Back on Track products increase with movement as the body's energy increases and reflects back to soother the body further.
Washing: Back on track products can be machine washed at 40 degrees Celsius / 104 degrees Farenheight with a mild detergent. Because Back on Track Welltex technology is permanently infused into our fabrics, our products can be laundered with no loss of benefit. Do not bleach our products. Do not tumble dry our products. Line dry only. If necessary, products may be ironed at a maximum temperature or 122 degrees Farenheight.
What the CAM team thinks:
"Holly had one for last winter, along with the all weather standard rug, and I feel that it was an essential part of my management strategy. It kept her warm and dry on the walks, as well as keeping her toasty at home after. She did not show any signs of it being uncomfortable, and its cut fitted really well! We would definitely recommend other people consider purchasing one!" Hannah